SUMMER CAMP 2022
Our multi-activity camp for kids aged 4 to 12 years runs through the month of July. SPORTSCO CAMP has proved to be very successful due to its excellent leaders and wide range of activities including swimming, soccer, basketball, tennis, arts & crafts & quizzes (the programme may vary from week to week). These activities are all organised in the excellent facilities of SPORTSCO which include a swimming pool, indoor sports hall, 5-a-side soccer pitches and tennis courts.
Camp 1: 4th July - 8th July
Camp 2: 11th July - 15th July
Camp 3: 18th July - 22nd July
Camp 4: 25th July - 29th July
The camp runs from 9:00am to 3:30pm Monday - Friday.
Application forms are available from reception or you can email info@sportsco.ie and we can send you one.
The camp is open to both SPORTSCO members and non-members.
Members €125.00 / Non-Members €145.00 (Each Week)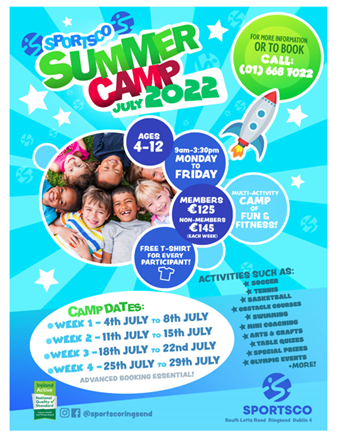 ---