RETURN TO SPORTSCO MEMBER GUIDELINES
Sportsco members & patrons, take a seat, get comfortable & please read on as it is finally time to give the details of our re-opening on a phased basis this coming Monday the 29th of June 2020.
At present members will need to book in for a 60-minute slot in advance to use the gym & pool along with as previously, the tennis courts & football pitches. We have a very large facility but to adhere to & ensure the safety of both staff & users, the number of people in the premises at any one time will be somewhat restricted & controlled.
This will be the same for the opening hours of the club which from Monday will be 8am to 9pm Monday to Friday & from 9am to 6pm on Saturday & Sunday.
We will be reviewing both of these on an ongoing basis & adjust when & where we deem necessary.
Regarding training in the gym & changing facilities, members are asked to come to the gym ready to train. Lockers will be out of action initially. This will be the same for those using the football pitches & tennis courts.
For those coming to use the Pool there will be dry changing rooms (the group changing rooms) where members can use to get ready for use of the Pool & once finished in the Pool to proceed to the adult male & female changing rooms where shower facilities are available to use as before. Again, we ask that all those using the facilities practice appropriate social distancing & hygiene.
Cleanliness has been drilled into us all & it will be drilled into you even more by us in the club. Wash your hands before coming to the gym & ensure they are clean & free of dirt along with regular use of the hand sanitizer provided upon entering to the club along with various other locations.
Please keep equipment clean & sanitised after using it. There will be a bottle of disinfectant spray at every available cardio & resistance machine along with the functional & free weights area.
As the Taoiseach said there is a personal responsibility on everyone, so we ask every member to respect the social distancing of others & be responsible for their own actions. So please take it upon yourself to keep the area you are training in clean, safe & ready for someone else to use.
If you are looking to contact the club please call us on (01) 6687022 or on info@sportsco.ie
Please find the Return to SPORTSCO Member Covid-19 Decleration here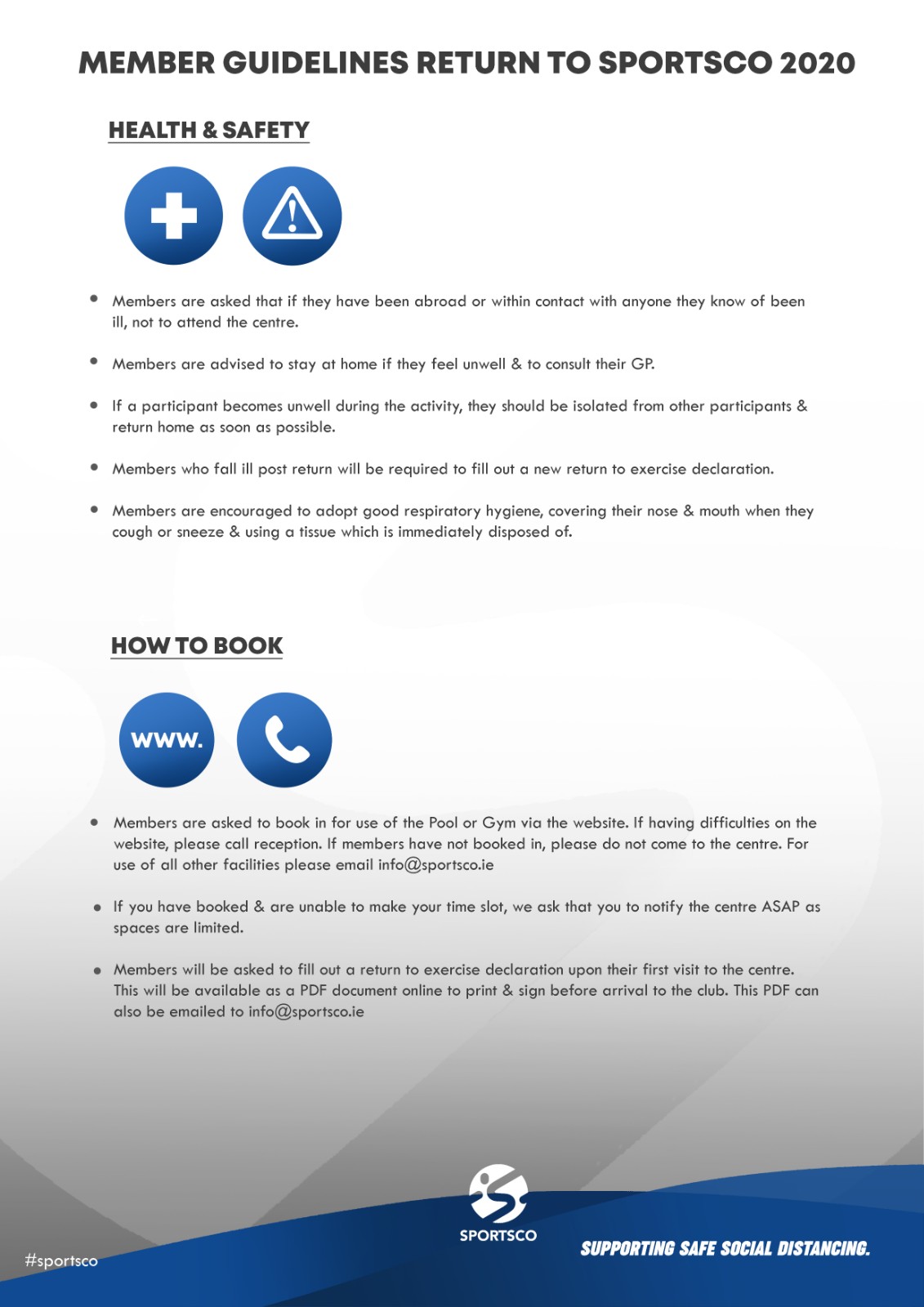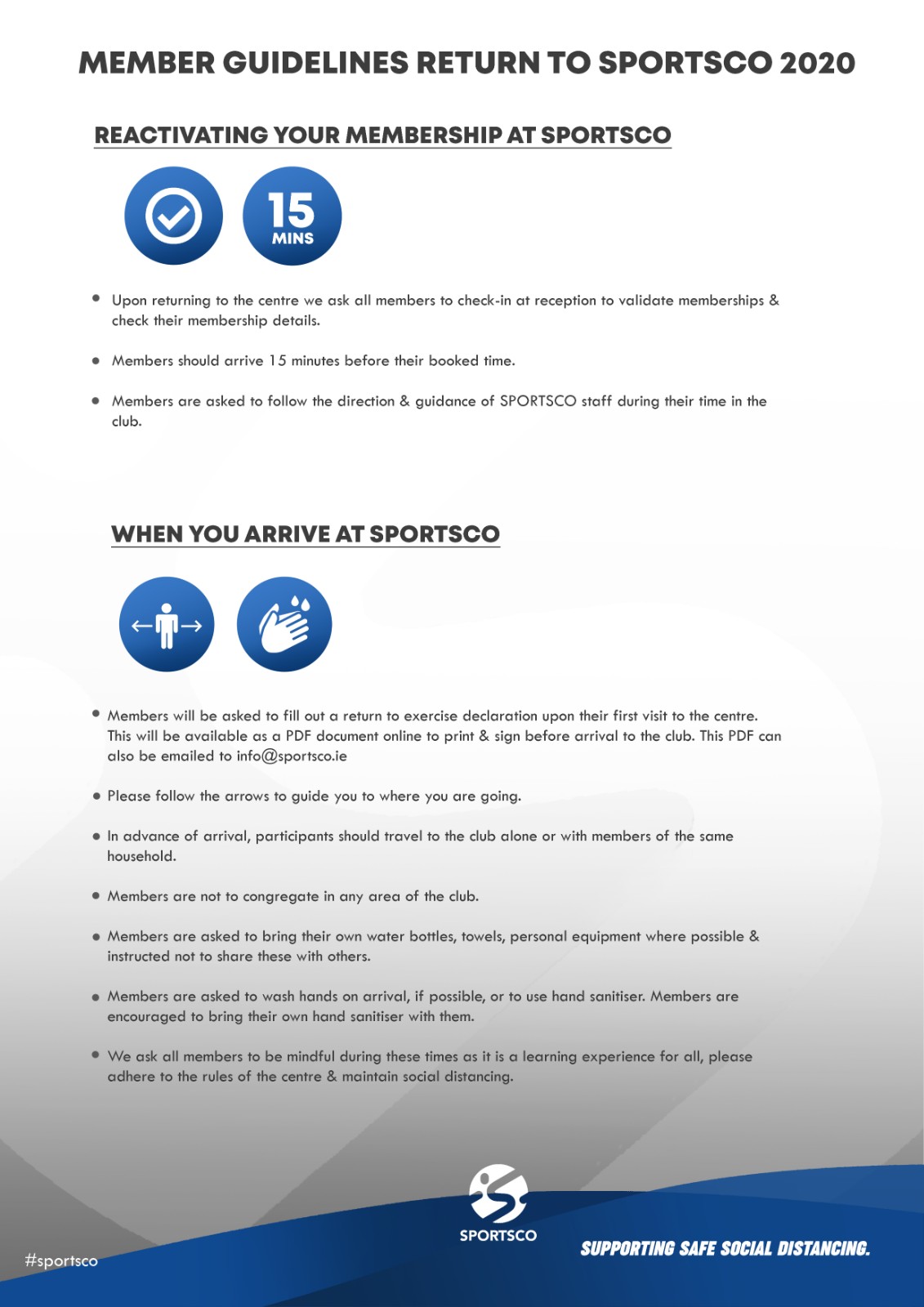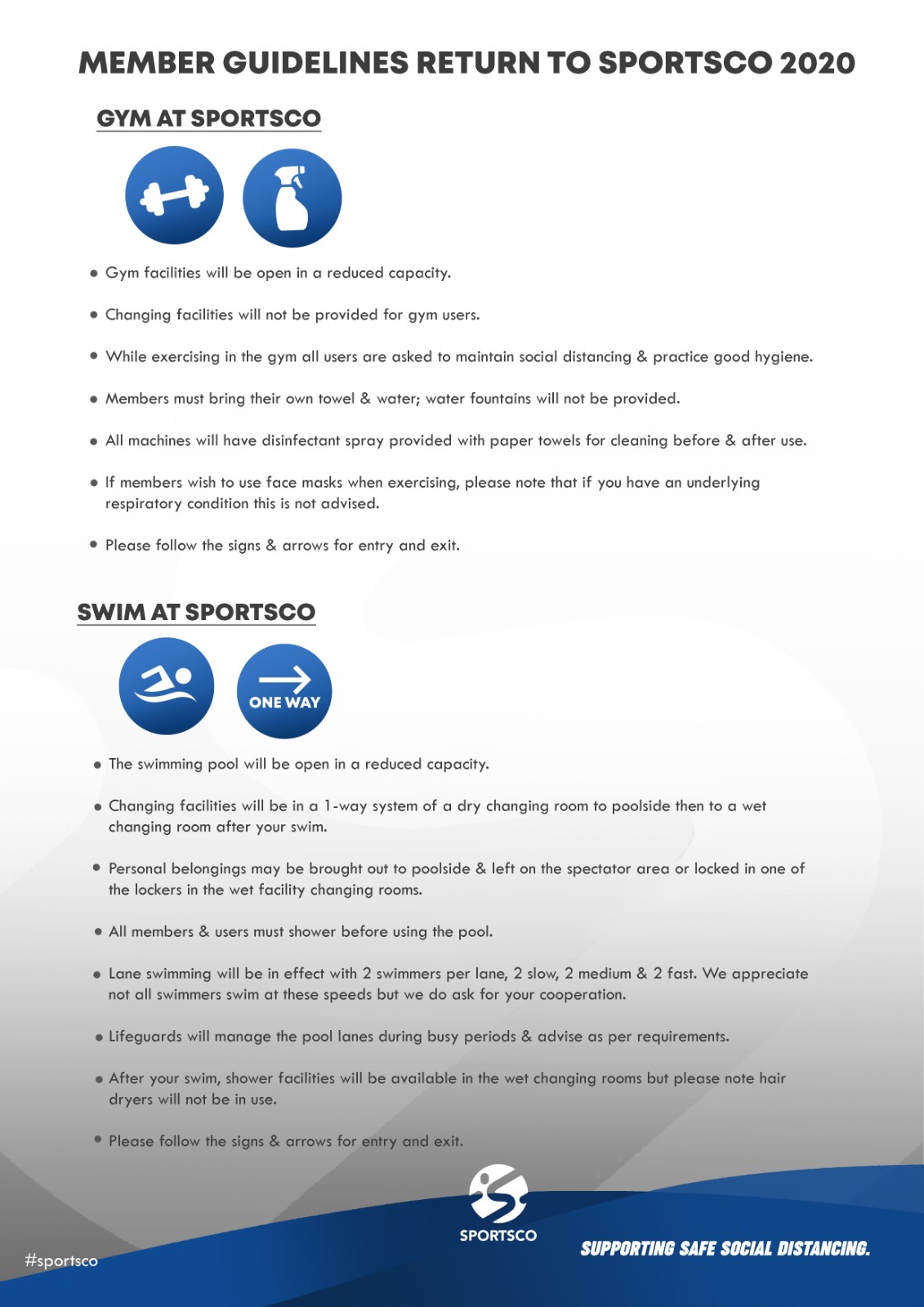 ---