Tennis Courts
SPORTSCO has four competition standard tennis courts. The floodlit courts have an all-weather Tiger Turf surface, making them suitable for play all year round.

Bookings can be made by members at Reception, and you can bring guests - see below for all our tennis options.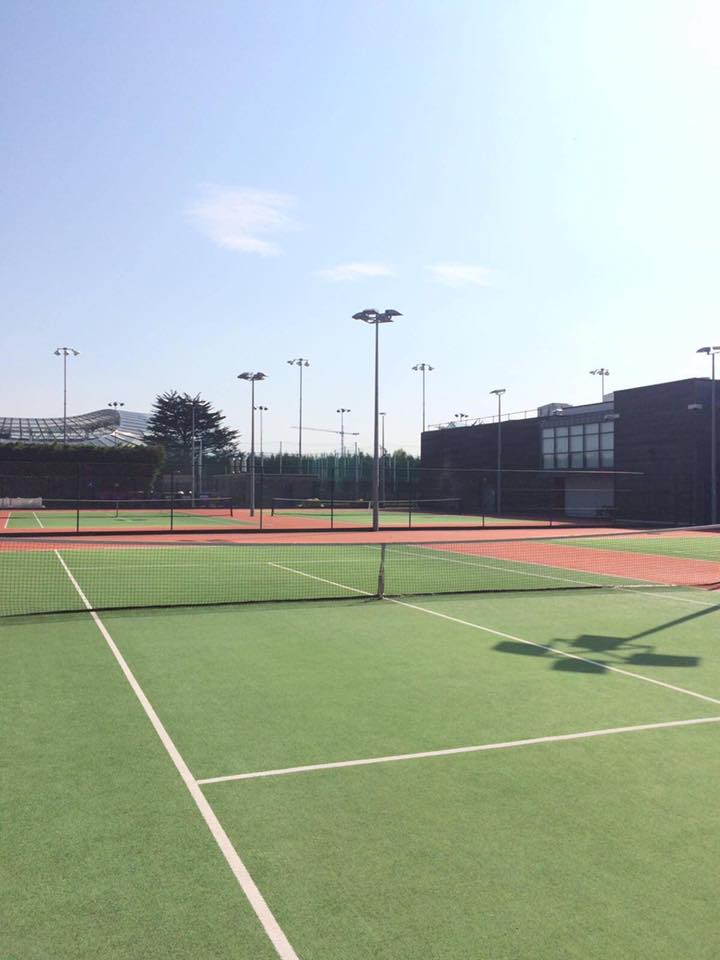 Why not call in for a tour of our facilities? No appointment required! Or click on the link below for sneak peak...

---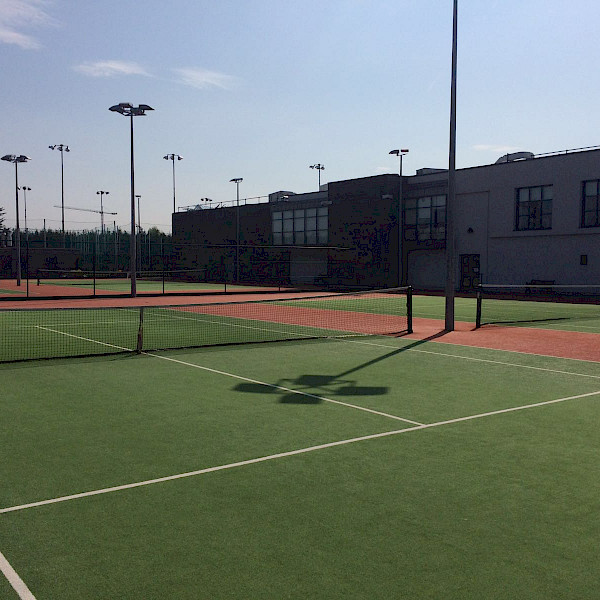 Tennis Bundle - only €99!*
SPORTSCO's Tennis Club Bundle features:
Regular social tennis evenings including coaching
Internal leagues & competitions
FREE court hire when playing with other tennis bundle members
Discounts on pay as you go court hire if you play with another SPORTSCO member (without the bundle) or guest (€5 / €10 per hour respectively)
*See Reception for all T&C's. The Tennis Bundle can be purchased by any adult member of SPORTSCO.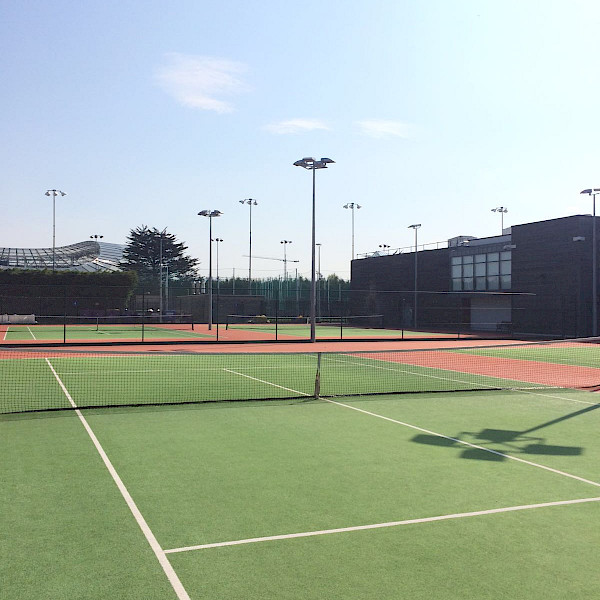 Pay Per Play
No Tennis Bundle? - no problem!
SPORTSCO members can pay €10 / €15 per court per hour (playing with SPORTSCO member / guest respectively).
If you would like more information on membership rates 01 6687022 ext 0 or email.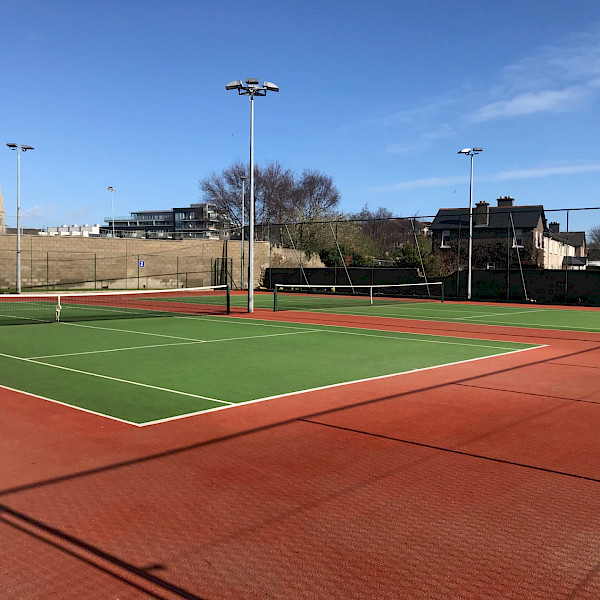 6 Week Tennis Courses
Open to Members (€85) & Non-Members (€95).
Pick a Tuesday or Thursday evening: 1 hour session - 1 night a week.
7pm Beginner Course Covers: Movement, Forehand, Backhand, Serve, Volley, Competition
8pm Improver / Advanced Course Covers: Drills, Playing when you & your opponent are on the baseline,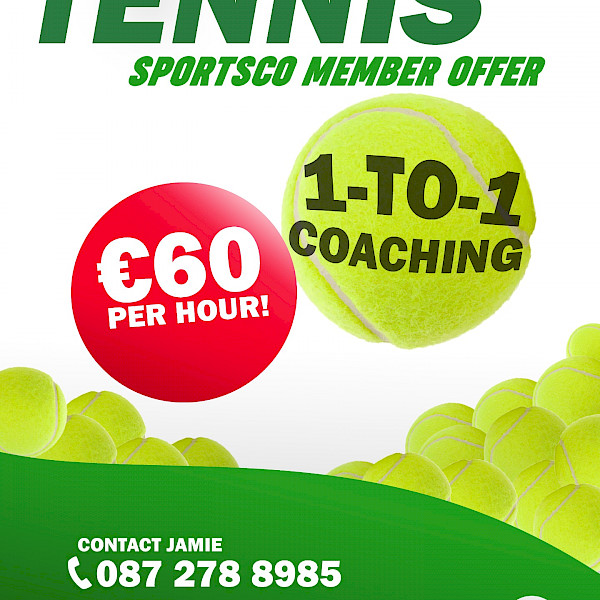 Tennis Coaching (1-to-1)
There is always room for improvement in many aspects of the game wheather technical, tactical, physical & psychological.
Get expert guidance on a one-to-one or one to two basis.
Contact Jamie Stafford for bookings, cost is €60 per hour for members.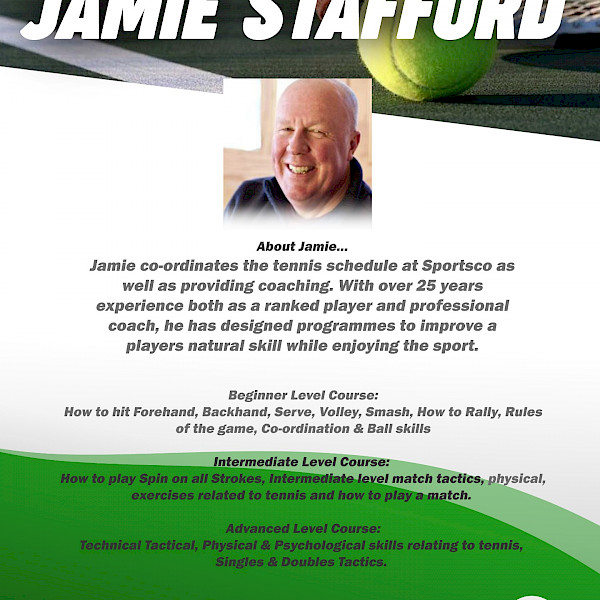 Meet Jamie Stafford
With over 20 years full-time coaching experience, Jamie Stafford heads up an experienced team of full-time professionals who can deal with the 4-year-old beginner to the experienced league player equally. As a qualified fitness instructor, Jamie is also the Professional Tennis Registry's National Tester for Ireland. Contact him on 087 278 8985 or email.